Unique Features of 4ROTORS Helicopter Magazine
Market Reports

4ROTORS tracks the single European markets in order to support the rotorcraft industry.

Regulations

The European regulations are in permanent development, which is why 4ROTORS also reports on latest updates.

Decision Makers Interviews

4ROTORS talks to the European but also global decision makers.

Industry News

In order to keep up with the industry 4ROTORS reports about latest topics of manufacturers, operators and suppliers.

Flight Safety

Since complexities even increases on the flight decks, 4ROTORS also reports on pilot's matters.

Tradeshow Events

4ROTORS is present at all major rotorcraft industry shows and reviews them in each issue.
Take a sneak peak insight
4ROTORS covers most actual and important topics of the European rotorcraft industry.
Besides a reliable news coverage 4ROTORS comes along with unique stories and interviews which helps to understand coherences more clearly. It's own industry features make 4ROTORS a new powerful information resource for the European rotorcraft community.
A wide and international business network.
The most direct access to the European rotorcraft community.
A unique and qualified business development tool.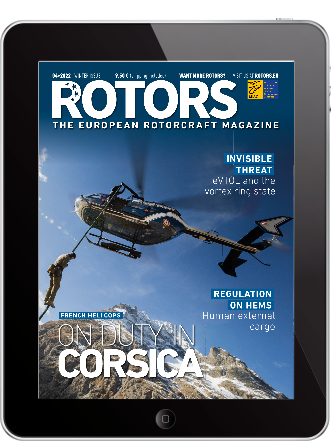 Read it on your tablet!
As even cockpits become more and more paperless and mobile reading is already state of the art 4ROTORS Magazine is delivered also digitally.
If you own apple's iPad you may go to the app store and get the 4ROTORS Magazine app for free. The app offers you not only the current issue but also a permanent archive. As a paying subscriber you have even access to special features that come along with the app.
But also with an Android or Windows driven tablet computer you are able to access 4ROTORS Magazine. Whenever a new issue is out you as our subscriber will receive an email with a special link that leads you to a special application to read 4ROTORS online inside your web browser.
We are happy to help you in case of anymore details or questions.